A severe second wave of coronavirus infections has swept over India, setting global records for new infections each day over the past week.  Nearly 1 in every 3 cases of COVID-19 recorded daily is now in India. In April, India's outbreak has seen record numbers of cases overwhelming hospitals and oxygen supplies. More than 3,500 deaths a day are now reported. Daily new infections in the ongoing second COVID-19 wave have surpassed 350,000 on the peak days. The staggering second wave came on quickly and has also brought offers of support from other countries, including the U.S., to increase the vaccine supply.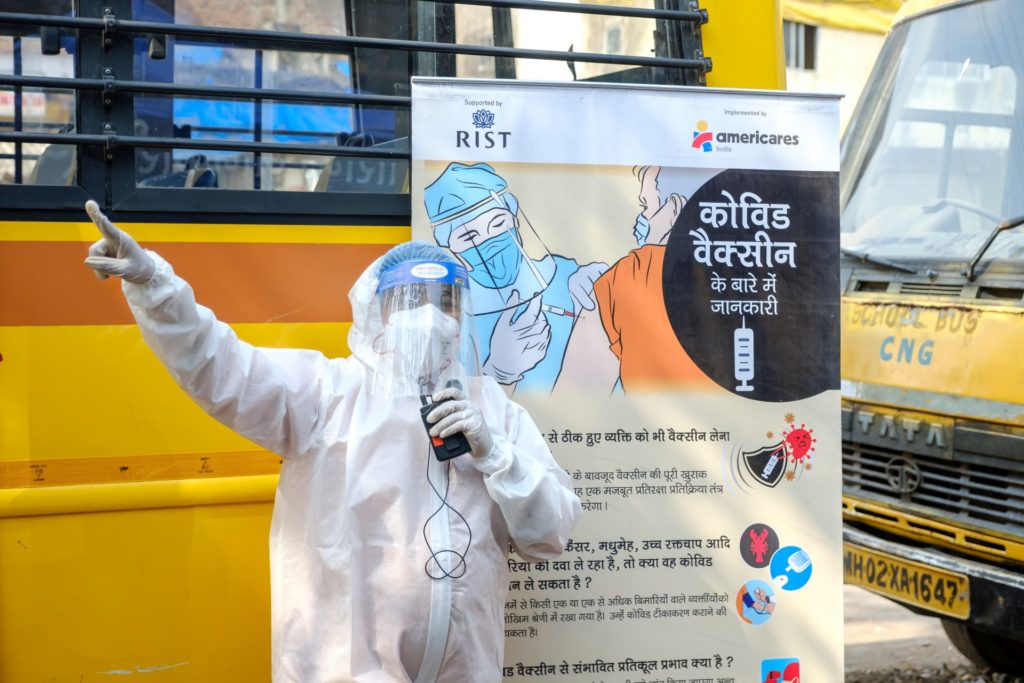 Americares India, which has supported over 100 health care facilities in 14 states throughout the pandemic, is responding to the latest surge of COVID-19 infections by:
Providing health facilities with life-saving equipment – Americares is helping health facilities manage the increased case load of COVID-19 patients and save lives by supporting their clinical capacity to treat patients. We are providing facilities with essential equipment and supplies, including ventilators, oxygen concentrators, pulse oximeters, thermometers and other critical items. To date, Americares has provided 4,600 pieces of medical equipment to health facilities throughout India treating COVID patients. Americares is donating more than 600 oxygen concentrators to public hospitals across multiple states.
Protecting Health Workers –  Americares is providing essential PPE and infection-prevention supplies for frontline health workers – delivering over 6.6 million supplies to date, including gloves, masks and face shields, and now providing 1 million protective supplies, including N95 masks, 3-ply masks and sanitizers, to dedicated COVID-19 hospitals in Mumbai and Delhi.
Providing telehealth consultations and medicine delivery, including prescription refills, for mobile health center patients in Mumbai, Chhattisgarh and Bihar to ensure continuity of care. In-person consultations continue in Tamil Nadu. Each telehealth session includes education in COVID-19 prevention and the importance of vaccination.
Community Education – Americares has reached more than 50,000 community members—largely families living in poverty and parents of school children—with education on how to prevent the spread of COVID-19. Also COVID education, including safety practices and vaccine information, for more than 5,000 children and families in the School Health Program.
COVID Strategy
Americares India Foundation, from the beginning of the pandemic has responded to the COVID 19 emergency with a two-pronged strategy: Protecting the healthcare workers and supporting COVID isolation centres.
Partnering with corporations and foundations, Americares has supported ten states and local governments including Mumbai, Maharashtra, Delhi, Uttar Pradesh, Haryana, Rajasthan, Himachal Pradesh, Chhattisgarh, West Bengal, Dadra & Nagar Haveli, Andhra Pradesh, Telangana, Tamil Nadu, Karnataka and Kerala. To date, Americares has distributed protective equipment like masks, PPE* Kits, hand sanitizers, hospital disinfectants and high value ICU equipment like ventilators, multi-para monitors, infusion pumps and pulse oximeters, among others.
Additionally, Americares has mobilized support to address the two major aftereffects of COVID-19 namely, mental health and poor nutrition. We are working to bridge the nutrition deficit due to the lock down situation among pregnant women, lactating mothers and children below five years. Americares is also working towards development and dissemination of digitized educational content to address mental health issues in partnership with India's leading mental health specialists.
* PPE- Personal Protective Equipment
Photo: Cartridge Based Nucleic Acid Amplification Test (CB-NAAT) machines for Covid 19 testing donated by Americares to LTMG Sion Hospital in Mumbai.
We are grateful to our donors and corporate partners for their timely support in this national health emergency.
Help Protect Health Workers and Others on the Front Lines of the Pandemic
Donate Now